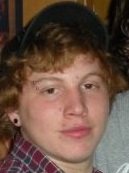 Chad A. Shettle
Chad Allen Shettle, 27, of Wilkes-Barre, passed unexpectedly on Wednesday, August 9, 2017, at his private residence from complications of diabetes.
Chad was born on June 23, 1990, in Aiken, South Carolina. His mother Shelley Montreuil relocated to the Valley when Chad was young. Chad attended local schools of Wilkes-Barre and was a graduate of Bishop Hoban Class of 2008. He continued his education at Kutztown University, but his spirit and life were calling him to an early passion that he discovered at the Mill and Parkway Inn, Nanticoke, when he was 16. He found a passion for cooking. He worked at the Inn for a few years and then started to cook for Smokey Bones of Wilkes-Barre. Chad recently started working at the Anthracite Café.
When he was not in the kitchen he was at home reading books, gone fishing, or off on some hiking adventure to find the best swimming holes. One of his favorite accomplishment was hiking parts of the Appalachians Trail with a friend. He was always spontaneous, one Thanksgiving he just left and went to Puerto Rico without telling anyone. He has aspirations of traveling to Alaska and other wilderness areas.
Chad was preceded in death by his mother Shelley Montreuil- Piestrak; maternal grandmother Leellen Montreuil and maternal grandfather Donald Montreuil.
Surviving is his sister Courtney Shettle and her fiancé Elijahblue Price, Dallas; brothers Cody and Collin Piestrak, Nanticoke; step father Kenneth Piestrak, Nanticoke; grandfather Ed Piestrak and Grandmother Barbara Piestrak; several aunts, uncles, cousins, and to his numerous friends and especially his restaurant family.
A graveside burial service will be held next Wednesday, August 16, 2017, at 11:00 a.m. at the Broadway Cemetery, Broadway Street, Ross Township, Sweet Valley.
In lieu of flowers, Memorial Donations can be made to the American Diabetes Association P.O. Box 15829, Arlington, VA 22215.
For condolences to the family and for directions to the services, please visitwww.yanaitisfuneralhome.com.