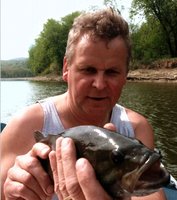 Richard B. "Rick" Bevan
On a calm summer's afternoon, Richard (Rick) Bevan went fishing to his favorite spot on the Susquehanna River, just as he did countless times before. On Tuesday, August 8, this would be Richard's last cast, for the Fisher of All Men had called him home.
The son of Robert and Margaret (Midge) Bevan, born April 9, 1963, in Somerville, NJ, where he graduated from Manalapan High School, Englishtown, NJ, in 1981. He enjoyed playing soccer and roller-skating at Sports 9 Skating Arena with his friends in the "six pack" competition.
Rick is survived by his loving wife Regina (Height) Bevan,Hudson, daughter Ashley, Hudson, mother Margaret ( Midge) Bevan and father Robert Bevan of Laflin, brother Robert and wife Janice, and sister Christine(Tina) Bevan; stepchildren Kimberly Baron and husband Mike, Christopher George and wife Sylvia of Mountaintop, and Bethany and Justin Purkey; grandchildren Damien and Elise, whom he adored and 12 step grandchildren, numerous nieces and nephews,all who loved spending time with him, as he made each one feel special. He was more than just a brother-in-law to the Height Family; his friendship was a constant blessing.
Rick moved to Hudson, PA, in 1987 and was employed at HCSC, Kingston, for 25 years. Rick began his career as a mechanic and worked to become the Plant manager. He was a critical and valued part of the heart and soul of HCSC.
Rick extended himself to everyone in every way with his knowledge and expertise. He could fix anything for you and made sure you felt like you were a part of the process. He enjoyed horseshoes, shooting pool, grilling, and watching football, soccer, and NASCAR, as well as working on his truck in his garage. He also constantly helped anyone and everyone who was in need. If Rick couldn't fix it, no one could.
He valued the friendships he made as part of the fishing community as well as every aspect of his diverse life. Rick would talk to anyone he met as if they had been friends for years. He will be greatly missed by all those who knew him.
In lieu of flowers, memorial donations may be given to the Germania Hose Company in the care of the Scuba and Rescue Divers, 430 Foote Avenue, Duryea, Pa, 18642.
Friends may call Sunday, August 13, 2017, at Yanaitis Funeral Home Inc., 55 Stark St, Plains, PA, 18705, from 2:00 p.m. to 4:00 p.m. A funeral service will begin at 4:00 p.m. officiated by Pastor Tracy Thornton.
The family would like to thank first responders from all towns, volunteer divers, friends, fellow anglers and everyone who gave their time and effort in assisting the family in this difficult time. Special thanks to Brian Oppelt Sr., for his relentless efforts in bringing Rick home. Thank you, Alan Klapat and the Wilkes-Barre Fire Department.