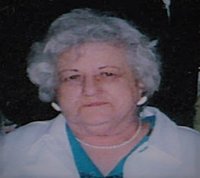 Helen Lena Gulius
Helen Lena Gulius, 93, of Wilkes-Barre, passed peacefully on Friday, September 1, 2017, while in the care of the Mountain Top Senior Care and Rehab Center.
Born on June 8, 1924, in Peabody, Massachusetts, she was a daughter of the late Nicholas and Irene Balas. Helen attended local schools and graduated the town high school.
Helen married Joseph Gulius and together they lived in the Wilkes-Barre Area. Helen and Joseph raised two sons John and Nick. Helen enjoyed being a home maker for the family and in her later years, she enjoyed spending her time with her grandchildren. When Helen had free time she enjoyed crossword puzzles.
Helen was preceded in death by her husband Joseph, brothers Charles and George.
Surviving Helen are sons John and his wife Jennifer, Wilkes-Barre, Nick and his wife Maryann, Leesburg, Florida; grandsons Nick Gulius Jr., Bear Creek, Anthony Gulius, Wilkes-Barre Township; John Gulius Greensville, South Carolina; grand daughter Andrea Gulius, Lakewood, California; and sister Rose Genkinus, Newton, MA.
A Mass of Christian Burial will be held on Saturday, September 9, 2017, at 10:00 a.m. in St. Benedict's Parish, 155 Austin Avenue, Wilkes-Barre, Pa, 18705, with Rev. Jack Lambert, the officiant.
Arrangments are in the care of the Yanaitis Funeral Home Inc., 55 Stark Street, Plains, Pa, 18705.