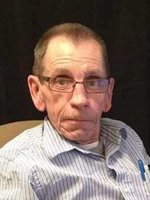 Edward K. Howard
Edward( Ed) K. Howard, father, grandfather, veteran and friend, returned to his Lord after 67 years on Wednesday, September 20,2017, with his loving family by his side at the Geisinger Wyoming Valley Hospital, Plains Township.
Ed was born on November 15, 1949, in Chicago, Illinois. He was a son to the late Steven and Edna Howard. Ed attended Chicago schools and graduated from high school in 1967.
Ed then joined the United States Army and served in the special forces for four years until he was honorably discharged from service.
Ed was employed over the last several years as a chef and line cook for several restraurants in Chicago, California, and here in Pennsylvania.
Ed enjoyed riding motorcycles, shooting a game of pool, going fishing, but most of all spending time with his loving family and his grandson, Austin.
Ed was preceded in death by his parents and his sister Darlene Howard.
Surviving are his children Aleashea Howard, Plymouth;Edward Alar, Larksville; and Stephin Alar, Alabama; grandson Austin, Plymouth; along with several other family members and friends who were his family.
A Memorial and Benefit Motorcycle ride will be held on Sunday, October 8, 2017, from the Larksville Fire House. Begins at 10:00a.m. Kick off will be at 12:00p.m. Activities will be going on till 6:00p.m.