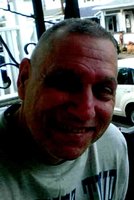 Alan Hornick
Alan Hornick, born in Swoyersville, a resident of Hanover Township, passed away Wednesday, November 22, 2017.
He was the son of Nancy and John W. Hornick Sr. and grandson of Louis and Lena Filippini Ribolini. He attended Wyoming Valley West High School and graduated from West Side Tech, class of 1982.
He was a Swoyersville Little League Coach, Swoyersville Mini Football Coach, Hanover Township Little League Coach, and Hanover Township Basketball Coach.
Alan was a firefighter with Swoyersville #2 and a lifetime firefighter member of Swoyersville #1 hose company and the former fire chief for Hanover Township Lee Park Engine #4/ Truck#4.
He was an Army veteran of the Persian Gulf War serving as a combat medic stationed out of Fort Bliss,
El Paso, Texas. Alan was awarded several medals and citations for his exemplary service to his country.
He was preceded in death by his parents, grandparents, and brother Larry Hornick.
He is survived by his wife, Donna Strohl Hornick, daughter Danyelle, Bloomsburg; son Michael Hornick, Hanover Township; granddaughters Isabella and Audrey Hornick and grandsons Jaykob Dailey, Aydan and Michael Hornick. Brothers John and his wife Beth, Georgia; Steve, Michigan, and Matthew and wife Jean, Plymouth.Mother-in-law Gerry Strohl. Numerous nieces, nephews, aunts, uncles, cousins, and friends.
Funeral service will be held at the Yanaitis Funeral Home Inc., 55 Stark Street, Plains, at 10:00 a.m. with Fire Chaplin Joseph Nealon officiating service.
Interment with military honors will be held in Chapel Lawn Memorial Park, Dallas.
Friends, family and fellow firefighters may call at the funeral home on Monday evening from 5:00 p.m. to 8:00 p.m.
For online condolences to the family and for directions to services, please visitwww.yanaitisfuneralhome.com.