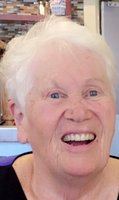 Ella Catherine Sullivan
Ella Catherine( nee Campion) Sullivan, 79, of Plains Township, passed peacefully on Sunday, December 3, 2017, at her private residence while in the care of her daughter Ellen.
Born in East Orange, New Jersey, on July 24, 1938, she was the daughter of John and Madeline (Jandoli) Campion. Ella grew up in East Orange and graduated from the East Orange High School, class of 1957.
Ella worked for the Liberty Mutual company from graduation until she married Daniel Sullivan on November 25, 1961. Together they moved to Brooklyn, New York and later to Carteret, New Jersey where they raised their daughter Ellen. In July of 1967, Daniel lost his life in an automobile accident that almost claimed the lives of the entire family.
After Daniel's passing, Ella and Ellen moved back to Orange, New Jersey, where Ella worked for the Supreme Bakery and the Midlantic Bank as a customer service representative. After a few years, the bank changed hands to PNC, where Ella remained as a customer service representative until she retired in 2001.
In her spare time, Ella loved to go to the casinos and bingo. When she was home she just liked to do laundry, relax, and enjoy life with her daughter.
Her daughter is deeply grateful for the love, help, and support of Ella's caregivers, Mary Jo, Christy, and Dorothea.

Her parents and her loving husband Daniel preceded Ella in death.
Surviving Ella is her daughter Ellen Sullivan, Plains Twp., Pennsylvania.
Ella's funeral service will be held on Wednesday at 9:30 a.m. from the Yanaitis Funeral Home Inc., 55 Stark Street, Plains, Pa, 18705. A Mass of Christian burial will follow at 10:00 a.m. in Saints Peter and Paul Church, Hudson Road, with service officiated by Rev Jack Lambert, Pastor. Interment will be held on Thursday at St. Gertrude's Cemetery, Colonia, New Jersey. Friends and family may call at the funeral home on Tuesday evening from 5:00 p.m. to 8:00 p.m