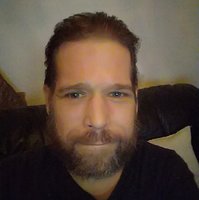 Robert . "Bobby " Kenzakoski
Robert (Bobby) Kenzakoski, 44, of Yatesville, passed on Saturday, December 16, 2017, while in the care of the Geisinger Wyoming Valley Hospital, Plains Township.
Bobby was born in Wilkes-Barre on May 21, 1973. He was the first of three children of Robert and the late Carol Ann Bartuski Kenzakoski. He spent forty-two out of his forty-four years living on Westminster before moving to Yatesville. He was a graduate of Pittston Area High School, class of 1991.
He loved gardening, spending time with his dog Bucky, going to yard sales and flea markets, and found special enjoyment tinkering with and repairing small engines. He spent a number of years at the Midway Garden Center and was also a skilled mason, working for Ciliberto Masonry, Al Dunn Masonry, and the Bowman Masonry companies.
Bobby was an avid user of Facebook and a frequent texter. His friend list and his recipients enjoyed his wild and funny posts that often caused panic and concern, but in the end, also provided a good laugh for his family and friends who were involved. He applied his humor and wit to photos of family, life events in his town, and his dog Bucky. He also took special enjoyment in his critique of others posts and responses and his well earned grammar police nickname.
Bobby grew up in a family of hunters and anglers for which he also had a passion. He was an avid outdoorsman and was known to spend long hours in the woods. He enjoyed the quiet times as a fisherman, spending time at his father's pond on Westminster. He enjoyed gardening and was often known to have a garden filled with cherry tomatoes and hot peppers that he attempted to dare others into eating.
From a young age, Bobby took his responsibilities as an older brother very seriously. He was always willing to remind his siblings of their failures, drag them around by their ankles, or threaten his younger sister Stacey to gang up with him on his youngest brother, Kevin. As he got older, he still found time for them, often sending them messages during the early morning hours to ensure they didn't over sleep, were up to date on the local news happenings, or to gently encourage them, while also reminding them that he was watching. His siblings will fondly remember his love.
Robert was preceded in death by his mother Carol; maternal grandparents Ed and Genevieve Bartuski; paternal grandparents Joseph and Stella Kenzakoski; and his dogs Vince and Muskie.
Surviving are his father Robert and his fiancée Joanna Colleran, Westminster; sister Stacey Kuniskas and husband John, Westminster; brother Kevin, Virginia; Robert's girlfriend Andrea Barycki, Old Forge; his best friend and surrogate mother his aunt Diane Sott; several aunts, uncles, cousins; his three nieces: Alina, Somara, and Hannah Kuniskas, and his dog Bucky.
Friends and family may call at the Yanaitis Funeral Home Inc., 55 Stark Street, Plains Twp., on Wednesday, December 20, 2017, from 5:30 p.m. to 8:00 p.m. A funeral service will begin at 7:30 p.m. led by Rev. Hadley Hayes. Interment will be held at 10:30 a.m. on Friday, December 22, 2017 at the Fern Knoll cemetery in Dallas.