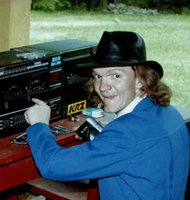 Harold W. Haskell
Harold Wilbur Haskell, 57, of Wilkes-Barre, left his loving family on December 28, 2017, to go to his heavenly kingdom and listen to all the legends play. Harold is having it good this day for he is in the presence of two kings: Jesus and Elvis.
Born in Wilkes-Barre on July 25, 1960. He was a son of the late Harry Haskell and Madeline Dougherty Ward. He attended Wilkes-Barre schools and was a graduate of G.A.R. high school, class of 1979.
After graduation, Harold began working for Carter Footwear until the plant closure. He then was employed by Midvale Paper Plant, Plains. In 2008, doctors discovered a tumor on his brain that later made him disabled. This did not stop him. He still lived his life by God's Golden Rule.
From his youth, he enjoyed bowling all over the Wyoming Valley. He bowled in Lispi's; Stanton Lanes; Modern Lanes; Chaco's, and Southside Lanes. He participated in numerous leagues like the no-tap tournament. Some of his accomplishments were bowling three perfect games, and missing an 800 series by four pins.
He enjoyed music. He loved the Beatles, Loretta Lynn, and his favorite, Elvis. His lifelong wish was to see Graceland. This past July, with the help of his family, he did just that. He went on a V.I.P tour and was able to hold one of the king's gold belts.
In his downtime, he enjoyed reading poems, writing letters and stories, and assembling models.
Harold was a sports fan of the NFL Miami Dolphins; MLB Cincinnati Reds and a NASCAR fan of both the Earnhardt's.
Harold was also an active member of the Living Hope Bible Church, Plains Township.
Harold was preceded in death by his parents and his nephew Robert Davis.
Surviving are his brother George and companion Evelyn, Wilkes-Barre; sisters Frederis Henry and husband Michael, Stevens, PA; Dorothy Davis and husband Robert; Plains Twp; sister Connie Marie Ward, Plains; brother Harry Haskell Jr. and companion Charlene, Wilkes-Barre; nieces, nephews, and great-nephews.
Funeral Service will be held at 5:00 p.m. on Sunday, December 31, at the Yanaitis Funeral Home Inc.,55 Stark Street, Plains. Service will be officiated by Rev. Mark Desilva, pastor of Living Hope Bible Church, Plains. Friends and family may call prior to the service at the funeral home from 3:00 p.m until time of service. Interment will be private and held at the convenience of the family.
For online condolences and for directions, please visit www.yanaitisfuneralhome.com.
Ladies and Gentleman, Harold has left the building. Heaven is gonna be rocking.