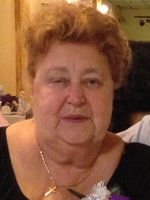 Mary Ellen Everett
Mary Ellen Everett, 74, of Wilkes-Barre, entered into eternal rest on Tuesday, February 6, 2018, at ManorCare, Kingston, Pa.
Mary Ellen was born in Wilkes-Barre, on May 24, 1943, to the late Douglas and Mary Roth Thomas.
She attended the local Wilkes-Barre elementary schools and attended Coughlin High School.
Mary Ellen was employed by the Prestige Shoe Factory, Wilkes-Barre, as a shoe molder.
Her enjoyments in life were going on a bus trip to the New England seacoast, Maryland, and New Jersey. She also enjoyed visiting local casinos.
She was a caring mother, grandmother, sister, and friend. Her favorite domestic hobbies were baking for the family and spending quality time with her precious grand and great-grandchildren.
She was preceded in death by her parents and her late husband Harvey Everett Sr.; sister Linda Sarbaugh; and grandson Alexander Everett.
Surviving Mary Ellen is her companion Ralph Everett, Wilkes-Barre; daughter Lisa Parcinski (Danny)Wilkes-Barre; sons Harvey(Angelika), Plains; Mark( Denise), Hanover Twp.; brothers Douglas Thomas Jr.( Mary);Hanover Twp.; sisters Aida Lecitshon ( Bill) Wilkes-Barre; Carol Fisher(Joseph) Wilkes-Barre; grandchildren Mary Lynn and Danielle Parcinski; Harvey Everett III; Jennie Lynn ( James) Casey; great-grandchildren Korrie and Landon Casey, and Malina Otero; numerous nieces; nephews, and cousins.
Mary Ellen's Funeral will be held on Saturday, February 10, 2018, at 10:00 am. From the Yanaitis Funeral Home Inc., 55 Stark Street, Plains. Services will be officiated by Rev. Peter J Haentfling, pastor of St. Matthew Evangelical Lutheran Church. Interment will be held in Albert Cemetery, Mountaintop.
Friends and family may call at the funeral home on Friday evening from 4:00 pm to 8:00 pm.