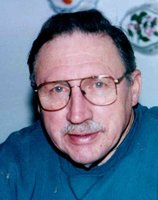 Raymond L. Hendershot
Raymond L. Hendershot, 87, of the Hudson section of Plains, passed into eternal rest on Wednesday, February 7, 2018, while in the care of the Department of Veterans Administration Hospital, Plains Twp.
Raymond was born on September 28, 1930, he was the son of Arthur and Anna Ruch Hendershot.
Proud of his country, Raymond served in the First Division Marines and received a commendation medal while serving during the Korean War. His medal was earned for his conduct in the Korean demilitarized zone tank division.
After being honorably discharged, Raymond worked as a terrazzo, marble, tile mechanic and was last employed as owner and operator of General Marble, Tile, and Terrazzo, Inc., Plains, Pa.
Raymond was a member of the Brick Layers Union Local 5. He was also a member of St. Mary of the Assumption Byzantine Catholic Church, Wilkes-Barre, Pa.
He was predeceased by his parents, brothers: Robert, Russell; and sister Ruth Burnside.
Surviving is his loving wife of forty-five years, Charlotte Weiszer Hendershot SFO; several nieces and nephews.
Thank you to the caring staff of the V.A. Medical Center, Wilkes-Barre, and the Gardens at East Mountain, for the excellent care, especially to Maryanne Walsh, R.N. and Michelle Walters, N.P.
A Special thank you to past caregivers Angela Milazzo, Dawn Haas, CNA; Yadhira Santana, CNA; for their compassion and loving care.
Funeral Services for Raymond will begin at 9:30 a.m. on Wednesday, February 14, 2018, at the Yanaitis Funeral Home Inc., 55 Stark Street, Plains. The Office of Christian Burial will be held at 10:00 a.m. in St, Mary of the Assumption Byzantine Catholic Church, 695 North Main Street, W-B, with Rev. Michael Kerestes, officiant. Interment will be held in the parish cemetery, Dallas, with military honors.
Family and friends may call on Tuesday at the funeral home from 5:00 p.m. to 8:00 p.m with Parastas service at 6:30 p.m.
In lieu of flowers, donations may be made to St. Mary of the Assumption Byzantine Catholic Church.
Raymond will be missed by all those who knew and loved him. He would never refuse anyone.
He was kind and generous, often helping with gratis work. Raymond was a quiet, humble, hardworking, simple soul. May your Memory be Eternal.