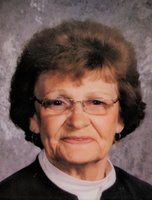 Dolores Johanna Leonard
Dolores Johanna Leonard, 84, of Swoyersville, returned home to her Lord and Savior, and to reunite with her loving husband Frank. Dolores was surrounded by the love of her children and grandchildren when she passed.
Born in Luzerne on April 7, 1933, she was the third of ten children of the late Carl and Arlene Craig Verbetich.
Dolores attended Sacred Heart School in Luzerne. She worked at the family business in Swoyersville, Leonard's Dairy.
After the Dairy closed, Dolores worked in the United Pants Factory, Swoyersville, for many years. Her last, but the most enjoyable job, was working in the Dallas High School as a hall monitor. Dolores retired at the age of 79.
Dolores's family was her life. She loved to spend as much time as she could with her children and grandchildren. She enjoyed playing bingo, cards, and visiting casinos to try her luck. She also enjoyed traveling with loved ones.
She was preceded in death by her loving parents; her husband Frank; son Carl; sisters Mary Fondo, Theresa Simon and brother Charles Verbetich.
Surviving are her son David Leonard, Cape Coral; daughter Susan Billings, Gilbert; son Frank Sidney and his wife Edith, Swoyersville; daughter Kelly Weaver and her husband Todd, Allentown; sisters: Sister Charlene, Allentown; Lucille Reed, Phoenix; Caroline Rukstalis, Courtdale; Helen Zimmerman, Harrisburg MI; Bernadine Simon, Dallas; and Margaret Smith, Harveys Lake; grandchildren David Leonard Jr.,SC; Christopher Leonard, NC; Stephen Leonard, SC: Michael Purdy, Dallas; Elizabeth Lowery, Kingston; Cheyenne and Lakota Leonard, Swoyersville, great grand children, Jessica and Valerie Leonard, PA; Alexis Leonard, GA; Jayden Leonard, NC; Elizabeth Leonard, PA; Kayla and Peyton Leonard, SC. As well as many nieces and nephews.
A Mass of Christian Burial will be held on Monday, February 19, 2018, at 1:30 P.M. in Saints Peter and Paul Church, 13 Hudson Road Plains. Rev. Jack Lambert will lead us in the service. Friends and family may call at the church on Monday afternoon from 12:30 p.m. until time of Mass. Private family burial at a later time.
In lieu of flowers, Memorial donations may be made to Kidney Foundation, Jared Allen Homes for Wounded Warriors, American Transplant Foundation.