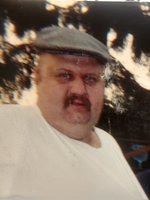 Phillip J. Perzia Jr.
Phillip John Perzia Jr., 52, of Larksville, passed on Monday, February 26, 2018, at his private residence.
Born in Wilkes-Barre on August 31, 1965, he was son to Jacqueline Barber Perzia and the late Phillip J. Perzia Sr.
Phillip grew up in the Kingston area and attended local schools. He was a graduate of West Side Area Technical Vocational School.
Phillip worked for Carter Footwear as a factory worker, a cook for a local pizzeria; and as a manager of apartments for the Boyer family for the last 15 years.
In his spare time, Phillip enjoyed fishing at Francis Slocum State Park, cooking food and spending time with his friends, especially his best friend George. He loved to talk to everyone whether it was in person or on the phone. He was an animal lover especially caring for his pet cats Tiny and Angel and his birds Speedy and Jabbers.
He is preceded in death by his loving father Phillip Sr., who passed in 2009.
Surviving is his mother Jacqueline, Luzerne; sister Leona Burnetski and her husband Richard, Wilkes-Barre; brother Anthony, Luzerne; nephew Erik Burnetski, Wilkes-Barre; Niece Nicole Burnetski and her fiancé Chris, Berwick; great nephew Joshua Vanchure; Berwick; his close friends Ellen, John, George, Joyce, and Brian; aunts, uncles, and cousins.
A special thank you to the Erwine nurses Robert(Bob) and Beth who helped to care for Phillip when their love and compassion was needed most.
Phillip's funeral was held privately at the convenience of his family. Arrangements were in the care of the Yanaitis Funeral Home Inc., Plains Twp.