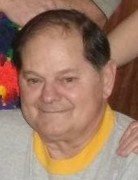 Joseph Raymond Gronkowski
Joseph R. Gronkowski, 71, of Wilkes-Barre, passed away at home while in the care of Hospice of the Sacred Heart on March 7,2018, with his family by his side.
Born on May 18,1946, he was the son of the late Joseph and Gertrude Gronkowski.
Joe was master carpenter and roofer for most of his life.
He loved camping, fishing, hunting and gardening. He spent all his vacations with his children and grandchildren.
In addition to his parents, he was preceded in death by his brother John.
Surviving is his wife of forty-five years, Deborah(Debbie). His son Joseph and his wife Lori, Swoyersville; daughter Tracey and her husband Daniel, Kingston; and his daughter Mary and her fiancé Jimmy, Wilkes-Barre; six grandchildren: Morgan, Zoe, Tyler, Abby, Mason, Lily; brothers Arthur and Richard, sister Martha Middaugh; several nieces and nephews.
A Mass of Christian Burial will be celebrated Monday, March 12, 2018 at 1:00p.m. in Saints Peter and Paul Church, Hudson Road, Plains, with Rev. Jack Lambert, celebrant. Friends and family may call at the church from 12:00p.m. until time of Mass.
In lieu of flowers, memorial donations may be given to the Hospice of the Sacred Heart, 600 Baltimore Drive # 7, Wilkes-Barre.
Joseph's funeral arrangements have been placed in the care of the Yanaitis Funeral Home Inc.,Plains Twp.