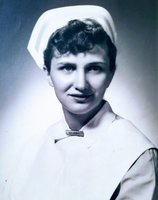 Marian Agnes Marotti LPN
On March, 6, 2018, a life long LPN, loving mother, grandmother, and great-grandmother passed from this world into the next. Marian Agnes Marotti, 79, of Kingston, fell into her eternal sleep while in the loving care of her family at her private residence.
Born on September 20,1938, she was the daughter of Ruth Harowitz. Her mother passed at an early age and was raised by her maternal grandmother, Pearl Ida Harowitz.
Marian was educated in the Wilkes-Barre area and graduated from St. Nicholas High School, class of 1957. Marian continued her education at St. Mary's School of Practical Nursing, Scranton. She graduated in 1959 as a Licensed Practical Nurse (LPN).
Her first employment after graduation was in the St. Joseph School for Orphans in Scrantion as a nurse. She also held employment at the Mercy Hospital and Leader East. Marian found a life long career caring for the elderly at Wesley Village Nursing Facility, Pittston. She was employed as an LPN for thirty years until her retirement in 2008.
Marian was not just a dedicated nurse, but a loving mother as well. In 1960, she married Joseph Thomas Kennedy and they started a family. Togther, they suffered the loss of one of their children, Maureen later in 1960, but together they raised five other children. Unfortunately, Joseph and Marian separated in 1972.
Later that year, after the Agnes Flood, Marian found the love of her life, Thomas Marotti. He became her confindente ,soul mate, and a step father to help raise the children. In 1984, they married to complete the family.
In her later years, Marian enjoyed time with her children, and her grandchildren. She also enjoyed a good book or taking a trip to visit the local casinos to try her luck.
She was preceded in death by her mother Ruth; maternal grandmother Pearl; infant daughter Maureen; daughter Karen Kennedy; husband of thirty-two years, Thomas Marotti; and her brother Jacob (Jake) Harowitz.
Marian is survived by daughters Laura (Keith)Winters, Williamsport; Joann (Mark) Salijko, Plains;
sons Joseph (Michele) Kennedy,Pittston; Christopher (Jammi) Kennedy, Wilkes-Barre; grandchildren Kayla (Todd) Martin, Clark Summit;Tara (John) Wilbur, Montrose; Joclyn Kennedy, Pittston; William Kennedy, Plains; Megan Winters, Pittsburg; Justin Winters, Williamsport; Joseph Kennedy, Plains; and Madison Winters, Williamsport; great-grandchildren Bryce and Eli Martin, Clark Summit; and her beloved pet and friend, Penny.
A Memorial Service will be held at the Yanaitis Funeral Home Inc.,55 Stark Street, Plains Twp, on Saturday, March, 17, 2018, at 4:00p.m. Friends and family may call at the funeral home from 1:30p.m. until time of service.
For online condolences to the family and for directions to service, please visit www.yanaitisfuneralhome.com.