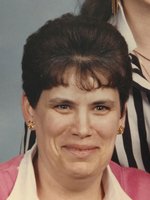 Linda Sue Nesbitt
Linda Sue Middaugh Nesbitt,69, of Plains Township, passed on Thursday, June 8, 2017, at the Wilkes-Barre General Hospital, following an illness.
Born in Wilkes-Barre on June 2, 1948, she was a daughter of the late William and Pauline Searfoss Middaugh. Linda grew up in Wilkes-Barre and Ashley. She attended the local school and was a graduate of the Ashley High School.
Linda went to work for a local laundry service in Wilkes-Barre, and this is where she met her future husband Walter Russell Nesbitt Sr. They were married on May 28, 1971. Together they spend thirty-nine of marriage together raising their children. Walter passed on September 15, 2010.
Linda continued to work as a seamstress in the local garment industry during the early years of her marriage. Later in life, she was a laundry aide at the Little Flower Nursing Home, Wilkes-Barre. Linda retired from the nursing home after twenty-two years of service.
During this time Linda and Walter began to raise their children, Linda became very involved in her children's life. She was a Den Leader and Cub Master to the Boy Scouts, Pack 1, of Wilkes-Barre for twenty-two years. She was also a Girl Scout Leader, for the Penn Woods Girl Scouts for thirty-three years.
Recently Linda enjoyed working with her granddaughters with Perler beads and designs. She also continued with hemming and sewing dresses for friends and family.
Linda was preceded in death by her parents, her husband, an infant daughter Amber Lynn Nesbitt, and brothers William John and Thomas Middaugh.
Surviving Linda are her daughter Tamara Nesbitt and her fiance Ronald Hoyt, Wilkes- Barre; son Walter Nesbitt Jr. and his companion Roberta Smith, Ashley; sisters Dianna Middaugh, Plains; Pauline Modzelewski, Wilkes-Barre ; Paula Schneider and her husband Bernie, Wilkes-Barre ;brothers Ralph and his wife Dorothy, Plains; and Charles and his wife Martha, Ashley; grandchildren Devin; Gwenivere; Victoria, Ronald (R.J.);Matthew; Taner; and Blake.
The family would like to give special recognition to the nursing staff of the C.C.U. unit for the special care they provided for their mother when it was greatly needed.
A visitation will be held on, Tuesday, June 13, 2017, from 6:00 pm to 7:30 pm at the Yanaitis Funeral Home Inc.,55 Stark Street, Plains Twp. A Funeral Service will begin at 7:30 pm. Interment services will be held privately at the convenience of the family.
For directions to service and for online condolences to the family, please visit www.yanaitisfuneralhome.com.