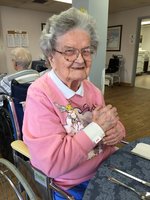 Josephine Bryski
Josephine Bryski, 97, passed away peacefully in her sleep on July 31, 2017, in Alexandria, VA.
Ms. Bryski was born Josephine Dziewit on December 24th, 1919 and was a lifelong resident of Hudson, PA until moving to Virginia in 2016. She married Joseph Bryski in 1941 with whom she had 2 sons, Daniel and Robert. She was a member of the International Ladies' Garment Workers' Union (ILGWU) and held several positions within the Garment Industry during her career.
Josephine is survived by her grandson Daniel Bryski and his wife Julie; great-grand daughters Hailey Bryski, Paige Day and Taylor Day; nieces Madeline Tershak and Carol Ann Gorski; and daughter-in-law Karen Bryski.
Josephine was preceded in death by her parents Frank Dziewit and Rose Kruk; husband Joseph Bryski; sons Daniel Bryski and Robert Bryski; siblings John Jevit, Anthony Dziewit, Mary Nutaitis, Stella Picchetti, Helen Kachmar and Mary Shimko; and her longtime companion Al Kubiak.
Visitation will be held from 9:30 AM -10:30 AM on Saturday, August 12, 2017, at Yanaitis Funeral Home Inc., 55 Stark Street, Plains, followed by a Mass of Christian Burial at SS. Peter and Paul Church, Hudson Road, at 11:00 AM. Service will be officiated by Rev. Jack Lambert, Pastor. Interment will be held in St. Joseph Cemetery, following the Mass.
To send condolences to the family or for directions to service, please visit www.yanaitisfuneralhome.com.