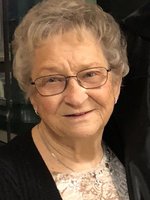 Eleanor Catherine Wanat
Eleanor C. "Tootsie" Wanat, 85, of the Parsons Section of Wilkes-Barre, was called to her Lord on the morning of Wednesday, November 28, 2018, in the care of the Commonwealth Wilkes-Barre General Hospital.
Eleanor was born in Parsons, on April 20, 1933, to her parents the late Michael and Catherine Kisankoski Peworchik. Eleanor grew up in the Parsons area and attended local schools. She was a graduate of the James M. Coughlin High School, class of 1951.
In 1953, Eleanor married her love, John Wanat. Together they settled in Parsons and raised their three children: Donna, Debbie, and Mark.
Throughout her life, Eleanor worked at Prestige Shoes, Parsons; RCA, Mountain Top; and retired from Metropolitan Wire (InterMetro), Parsons.
Tootsie was a woman of high energy. She enjoyed bowling at Chacko's Lanes, Wilkes-Barre. She was a member of the Miners-Mills Senior Citizen Club, the Intermetro Retirees; the Polish American Veterans (PAV), Hudson; and the Triangle Club, Miners-Mills.
Eleanor had a deep faith in God and was a past member of St. Joseph Church, Hudson, until the church's closure, and a current member of Saints Peter and Paul Parish, Plains.
She was preceded in death by her husband John; and sister Judy Gulich.
Surviving are daughters Debbie Lehman and husband Don, York; Donna Dennis-Gesecki and husband Hank, Wilkes-Barre; son Mark Wanat, Parsons; six grandchildren, seven great grandchildren, and several nieces and nephews.
Mrs. Wanat's funeral service will be held on Saturday, December 1, 2018, at 9:30 a.m. from the Yanaitis Funeral Home Inc. 55 Stark Street, Plains. A Mass of Christian Burial will be held at 10:00 a.m. in Saints Peter and Paul Church, Hudson Road. Interment will be private. Visitation will be held at the funeral home on Friday, November 30, from 5:00 p.m. until 8:00 p.m.
In lieu of flowers, the family requests memorial donations be given to the S.P.C.A. of Luzerne County, 524 E Main St, Wilkes-Barre, PA 18702.
https://www.spcaluzernecounty.org/donate