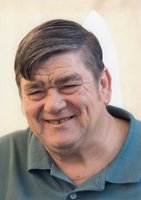 Lawrence Miscavage Jr.
Lawrence Miscavage Jr. ,66, of Wilkes-Barre passed Tuesday, February 5, 2019, while in the comforting care of the Residential Hospice Unit, Geisinger South Hospital, Wilkes-Barre.
Born on November 14, 1952, in West Wyoming, Lawrence was a son to the late Lawrence Sr. and Lillian Hess Miscavage.
Lawrence grew up in West Wyoming and attended the Wyoming Area High School.
He started work out of school as a short order cook in a local restaurant.
On September 16, 1972, Lawrence married the former Mary Pryce and together they moved to Wilkes-Barre to start their family and lives together.
He then went to work as a carpenter building counter tops and cabinets for Modern Floor/Modern Plastics.
After several years, Lawrence began to work for Penn Refrigeration as an installer and truck driver of the company's large walk in cooler units for industrial and commercial refrigeration. This job gave him the opportunity to travel all over the United States to see its great beauty and wonders.
In his spare time, Lawrence enjoyed fishing and hunting with his son, family, and friends. He enjoyed going on vacations to the great places he visited while driving across the country to show his family. From seeing the Smoky Mountains in Tennessee to visiting Disney World, or a small trip to the Poconos to get back into nature, he was happiest when the family was all together.
Lawrence is preceded in death by his parents and brothers David and Richard.
Surviving are his loving wife of forty-six years, Mary, Wilkes-Barre; Son Lawrence III (Sara), Wilkes-Barre; brothers Joseph, West Wyoming; Jeffrey, Kingston; sister Darlene (Russell) Keener, Kingston; three nieces; four nephews; five grandnieces, and one grandnephew.
Friends and family may call on Saturday, February 9, 2019, from 1:00 p.m. until service at 3:30 p.m. at the Yanaitis Funeral Home Inc., 55 Stark Street, Plains, Pa. Funeral service will be held at 3:30 p.m. led by Hospice Chaplin Nathan King.
In lieu of flowers, memorial donations may be made at the funeral home to be used at the family's discretion.