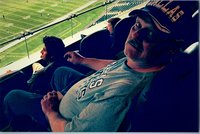 Charles Paul Miller
Charles Paul Miller, 61, of Wilkes-Barre, passed away on August 28, 2019 following a brief yet brave battle with cancer.
Born in Passaic, N.J. on December 10, 1957 to the late Charles F. Miller and Ann Pokrifka Miller. He was preceded in death by a daughter, Jeanette, in 1989; and a brother, Michael, in 1987.
Surviving are his sister, Mrs. Theresa Collins, Wilkes-Barre; daughter, Ms. Ashley Miller, Forty-Fort; step-daughter, Ms. Krystle Uzialko, Edwardsville; as well as aunts, uncles, nieces, nephews and friends.
Charlie truly enjoyed the simple things in life. His sense of humor was impeccable and anyone who has had the pleasure of knowing him would surely agree. A bigger fan than Jerry Jones, he always wore his Dallas Cowboys' stars with pride. Not to be forgotten, though, he was also a die hard fan of the New York Yankees. He was a man of few words, but those words, they meant a lot.
He will be greatly missed by all.
A memorial service to celebrate the life of Charles is set for Thursday, September 5, 2019, from 5:00 p.m. to 7:00 p.m. at the Yanaitis Funeral Home, 55 Stark Street, Plains, PA. 18705 .