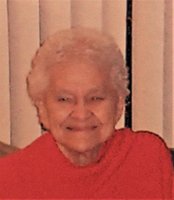 Florence Dorothy Pienta
Florence Dorothy Pienta, 97, of the Miners-Mills section of Wilkes-Barre, passed peacefully on Thursday, November 14, 2019, while in the care of the Wilkes-Barre General Hospital.
Born in Miners-Mills on October 13,1922, she was a daughter of the late Benjamin and Adele Zukowski Dworakowski.
Florence attended local Plains Township schools and was a lifelong member of St. Francis Church and the church's altar and rosary society until the church's closure.
On February 8, 1945, she married Stanley Pienta and had a three-day reception in Saints Peter and Paul's Hall to start their life together. They settled in the Miner-Mills, not too far from Florence's family home. During this time, Florence worked in the local garment industry as a seamstress for 20 years, during which she raised her four children and passed on her love for everything Polish, from listening to Polkas to making homemade pierogies, haluski, and smoked kielbasa in the backyard smoker with her husband.
For the last 10 years Florence has been in the care of the Guardian Nursing Home in Nanticoke. The family would like to thank the loving staff for their compassion and respectful care of Florence during her residence.
Florence is preceded in death by her husband Stanley; daughter Tina Baines; sisters Sr. Genevieve Stachurski RCD; Pearl Murray; and Lillian Vogen; and brother Joseph Stachurski.
Surviving are sons Daniel and his wife Jackie, Miners-Mills; Stanley and his wife Joan, Plains; daughter Mary Maurer and her companion Edward Gill, Miner-Mills; eight grandchildren, and four great grandchildren.
A visitation will be held on Tuesday, from 5:00 p.m. until 7:30 p.m. at the Yanaitis Funeral Home Inc., 55 Stark Street, Plains. A night vigil service will be held at 7:30 p.m. officiated by Rev. Joseph Kearney. Funeral service and interment will be held privately at the convenience of her family.
In lieu of flowers, memorial donations may be given to the Saints Peter and Paul Food Pantry, 13 Hudson Road, Plains, Pa, 18705.