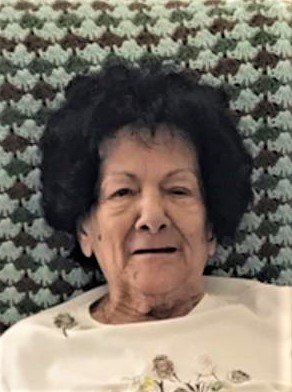 Obituary of Dorothy Oley
Dorothy Oley, 86, of Plains Township, walked through heaven's gate to the arms of Saint Theresa, leaving her loving family, who surrounded her at Geisinger Hospital on Monday, February 18, 2019.
Born in Wilkes-Barre on September 18, 1932, she was the last survivor of seven children of the late Michael and Constance Belcastro. Dorothy attended school to the eighth grade and then at a young age worked in local cigar factories to help support her family.
She married her late husband Ellsworth Oley in November of 1953, and together they had their three children: Son Ronald Oley and daughters Joyce Sult and Joan Oley.
Dorothy was a loving mother, grandmother, great grandmother and friend. If you knew Dorothy, she told it like it was, whether you liked it or not. At the same time she was very loving, generous, and compassionate.
Throughout the years, Dorothy was happiest during the holidays when her home was in total chaos, full of friends and family while she was busy preparing her famous turkey and stuffing. She was also known for her outstanding spaghetti sauce. She would cook a huge pot of it and eventually give most of it away to family and friends.
For several years, Dorothy worked for Metz Food Services at the Wilkes University Cafeteria. She was known for sneaking extra food to who she called her "poor hungry students."
Dorothy served as an elected Plains Township Committeeperson for many years and looked forward to working the polls and mingling with Township residents.
Dorothy enjoyed going for walks in the neighborhood and chatting with anyone she came in contact with. She also enjoyed watching game shows and praying to Saint Theresa.
She was preceded in death by her parents; sisters Eleanor Pizzella and Anna Backus, brothers Primo Belcastro, Michael Belcastro, Louis Mayo, and Anthony Mayo. Her husband Ellsworth, who she was married to for 62 years, passed away on December 31, 2015. It is comforting to know she has now joined him for eternity.
Surviving are her children Ronald, Joyce, and Joan; grandchildren Junell Guaneri, Sarah Latona, Ronald Oley Jr, Jenna Oley, James Kaskiel Jr, Ryan Kaskiel; great grandchildren Jackson, Callie, and Ella.
Family and friends are invited Dorothy's visitation on Saturday, February 23, from 3:00 p.m. to 6:00 p.m. at the Yanaitis Funeral Home Inc., 55 Stark Street, Plains.