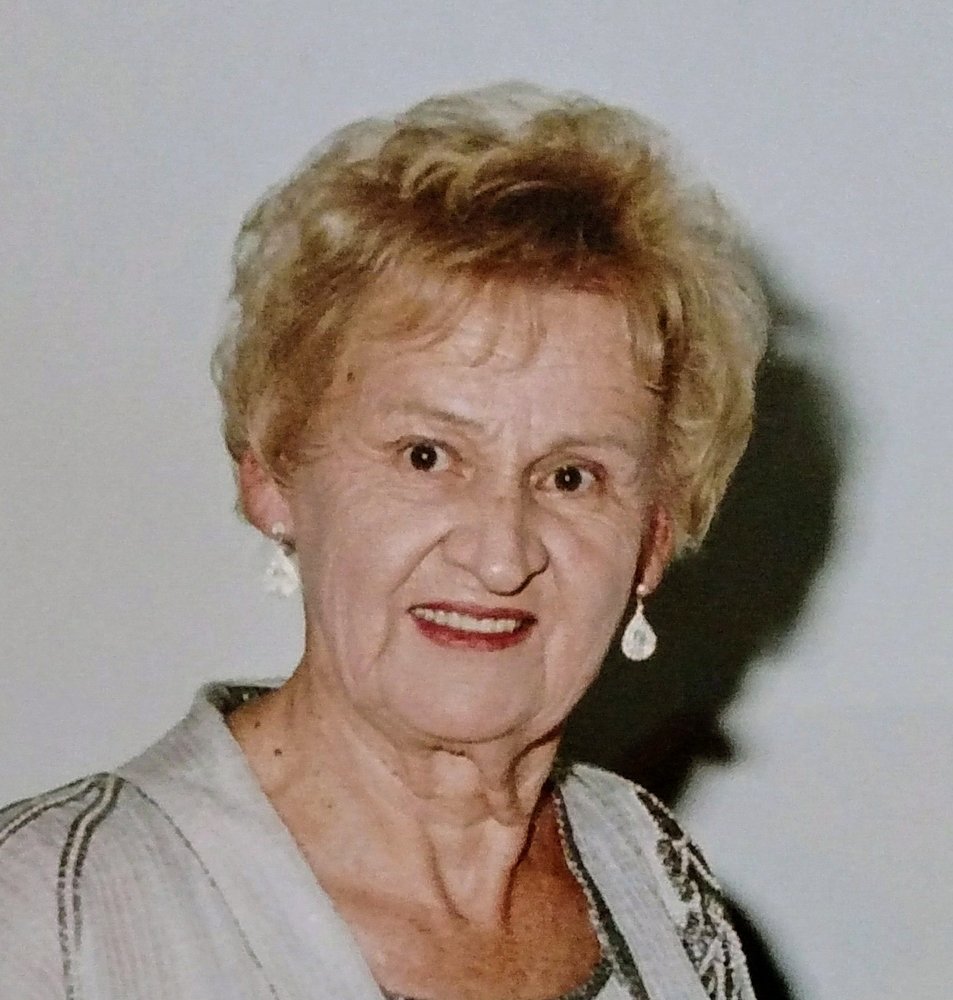 Obituary of Genevieve Stella
On September 1, 2017, the Lord sent his angels to carry the soul of his servant, Genevieve Stella, 92, from this earth to her heavenly place of eternal and everlasting life. Genevieve passed surrounded by her loving family in the Hospice of the Sacred Heart, Dunmore.
Born in Wilkes-Barre on August 29,1925, she was one of seven children of the late Alexander and Maryanna Sott Trentowski. At a young age, Genevieve took on the responsibilities of helping to raise a family when her mother passed suddenly.
On July 1, 1944, she married the love of her life, Angelo Frank "Bomber" Stella. Together they celebrated 70 years of marriage together and raised two daughters Sandra and Pat. Angelo returned to his Lord on June 1, 2014.
Genevieve was the rock of her family throughout her life. She made everything and everyone move toward success and showed everyone the value of hard work. She enjoyed visiting the Mohegan Sun Casino to try her luck at the slots, and on bus trips to Atlantic City with her family and friends.
One of Genevieve's most precious relationship was with her God. She was a devout Catholic and a life member of SS. Peter and Paul Church, Plains. Every Saturday you could find Genevieve sitting in church ready to celebrate Mass.
One of Genevieve's greatest hobbies, with Angelo, was taking pleasure in watching their grandchildren and great grandchildren excel on the sports field or in the classroom. They would always be there to cheer and be their biggest fans.
In her last days, Genevieve found the needed comfort of her family and loving care from all the staff at the Hospice of the Sacred Heart. The family would like to thank the staff for taking the best care of Nanny.
Thank you to our family and friends for your love and support for our Nanny. We now know that she is in heaven with the love of her life, Pappy. They were like peanut butter and jelly.
We smile because of all the loving memories we had with the most wonderful Mom, Grandmother and Great Grandmother anyone can ever have.
Genevieve was preceded in death by her loving husband Angelo, sister Pearl Serniak; brother Stanley Trentowski; brother Chester Trentowski; sister Sophie Kubiak; sister Regina Andrejko; and brother Vincent Trentowski.
She is survived by her loving daughter Pat Stella, at home; Pat's companion, Danny Branas, Miners Mills; daughter Sandra Sitoski and her husband, Dave, Harding; grandchildren, Ron Solt and his companion Lisa; Kevin Solt and his wife, Mary; Kimberly Suda and her husband, Don; Yvonne Cocoran and her husband, Mike; Heidi Gowden and her husband, Sean; great-grandchildren, Tayler, Matthew, Ryan, Kennady, Jennifer, Kevin Jr., Kyle, Halle, Cade, Mya, Giada and Evangeline.
Genevieve's funeral service will be at 11:30 a.m. Tuesday, September 5, 2017, from the Yanaitis Funeral Home Inc., 55 Stark St., Plains Township. A Mass of Christian Burial will be celebrated at 12:00 p.m. in Ss. Peter and Paul Church, Plains Township. Mass will be officiated by the Rev. Jack Lambert, pastor. Entombment will be held in Mount Olivet Cemetery, Carverton. Friends and family may call 4 to 7 p.m. Monday at the funeral home.
In lieu of flowers, the Stella family requests that memorial donations be given to the Hospice of the Sacred Heart, 100 William Street, Dunmore, Pa, 18510.
For online condolences and directions to the services, please visit www.yanaitisfuneralhome.com