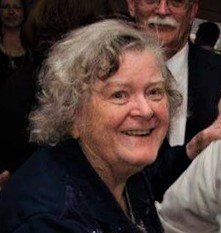 Obituary of Mary Godlewski
Mary Godlewski, 86, of Wilkes-Barre passed on Monday, April 23, 2018, while in the care of the Geisinger Wyoming Valley Hospital, Plains. She was surrounded by her loving family as she returned to the Lord.
Born in Swoyersville on January 7, 1932, she was a daughter to the late John and Mary Rusnak Kolesar.
Mary grew up in the Swoyersville area and attended local schools. She was a graduate of the Swoyersville High School, class of 1949.She then went to work in a local pants factory as seamstress. She then worked for the Wilkes- Barre School District for several years as a teacher's aide.
On December 31, 1955, Mary married Joseph Godlewski. Together they moved to Wilkes-Barre to start their family. Mary took on the role of home maker while raising their three children Joseph, John, and Susan. Mary was very involved in her children's lives. She was active in her children's school's PTA and became the PTA president. She was a Den mother in the cub scouts and was also involved in the Den Mother Boy Scout Committee. For her service and dedication, Mary received the Den Leader's Training Award, and the Den Leader Coach Training Award.
Mary was also very involved in their religious education. She volunteered as a teacher for the Confraternity of Christian Doctrine(CCD) where she earned the Saint Pius X Award for her volunteer service to Catholic Education.
In her spare time, she was a lifelong bingo player who would be at the local halls or churches. She will be missed by many bingo players.
Most importantly she was a loving wife, mother, grandmother, great grandmother and friend who will be miss by all.
Preceded in death by her loving parents John and Mary, sister Helen Monticelli, brother Jack Kolesar, and granddaughter Donna Urban.
Surviving are Mary's loving husband of sixty-two years Joseph, at home; sons Joseph and his wife Patricia, Copenhagen, NY; John and his wife Diane, Sweet Valley; daughter Susan Urban, Wilkes-Barre; six grandchildren, and eight great grandchildren.
Mary's funeral will be held on Friday, April 27, at 12:00pm from the Yanaitis Funeral Home Inc., 55 Stark Street, Plains Twp. A Mass of Christian Burial will be celebrated at 12:30 pm in St. Benedict's Parish,155 Austin Ave, Wilkes-Barre. Rev. Joseph Kearney will be celebrant for service. Interment will be held in Mount Olivet Cemetery, Wyoming. A visitation will be held at the funeral home on Thursday evening from 5:00 pm to 8:00 pm.
To send the family online condolences or for directions to services, please visit www.yanaitisfuneralhome.com.