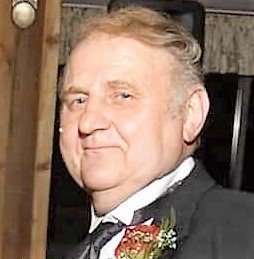 Share Your Memory of
Russell
Obituary of Russell Solovey Sr.
Russell Solovey Sr, 81, of Plains Township and owner of the Plains Meat Market, was greeted by the angels of his wife Joyce and son Russell Jr. as he was welcomed into heaven on Thursday, January 24, 2019.
Russell was born in Shantytown in Jenkins township on October 17,1937, to his loving parents George and Mary Kropcho Solovey. Russell grew up in humble beginnings. He attended local schools in Jenkins township and was a graduate of the Jenkins Township High School.
At the young age of thirteen, he began to play the accordion in a local polka band, The King Trio. Russell traveled to many different venues to perform with his fellow musicians.
After graduation, Russell joined the United State Navy and served as a Gunners Mate Third Class on the USS Douglas H. Fox for three years.
Upon return home he married his love, Joyce Hresko on July 24, 1959. Shortly after, Russell found employment as a Supervisor of Engineering at the Johns-Manville plant in New Jersey. They relocated to New Jersey for several years and at this time they began their family.
In 1964, the Solovey family returned to the Wyoming Valley, and Russell went to work with his father-in-law, Nick Heresko at Mike's Meat Market in Ashley. He also worked nights for the Solovey Gas Station on River Street, Plains Twp.

After a few years, Russell went to work as a butcher for the Sunshine Market, where the schooling of his artistry in butchery continued. In the years to follow, Russell's art was found to be in high demand and he subsequently found himself employed with the Acme and Insalaco Market chains as well.
When Russell was working for Insalaco's he started to work as a part time butcher at Johnny's Meat Market in Plains. After making the decision with Joyce in 1991, they purchased the Johnny's Meat Market, which is known today as the Plains Meat Market.
If you ever visited the market, the aroma of fresh made kielbasa ,or porketta would permeate the air inviting you for a taste. Over the years, Joyce and Russell would prepare many ethnic and traditional foods that would make it to many dinner tables in Plains, and surrounding areas during the holidays.
If you were a kid coming with your parents to the store, Russell would make sure you left with at least a lollipop or a piece of candy for the trip home.
Over the years, Russell remembered his humble beginning and would give back to the community in which he lived, donating meals to the shut ins and to the needy during the holidays. He would do anything to may sure that no one would go without a meal.
On Sunday mornings, after Mass at St. Mary's Byzantine Assumption Church, which the family was parishioners, you could find Russell watching his son Russell Jr. playing football or videotaping the Plains Yankee Football games at the old stadium on Abbott Street.
As Russell turned older, he was turning the Meat market over to his son Russell Jr. and his wife Joyce. In the years that followed, the trio started entering competitions for their store's kielbasa recipe. After winning several competitions, the Solovey family had made their family store well known in the Wyoming Valley.
Russell was very devoted to his religion and his church; As shown by the honor being chosen the recipient of the 2013 St. Nicholas Award, for volunteerism and community involvement.
Russell was always a busy man, but he enjoyed many simple things. He loved to watch old cowboy western, listen to Polka music at home and at the store and watching the New York Jets football team. He was a collector of Jets memorabilia over the years. He would love to take his wife Joyce on a Sunday ride in his detailed Cadillac. Joyce would always complain he took the long way around the block to get home.
Russell was preceded in death by his loving parents, his wife of 59 years, Joyce, son Russell Jr., and sister Joan Solovey.
Surviving are sons Damian and his wife Erin Solovey Chiogna, Plains; and Daniel, Swoyersville; daughters Denise Kocher and her husband Neil, Mountain Top; Helene Hrichison and her husband Jonathan, Plains; granddaughters Kendell Kocher, Mountain Top; Katarina Solovey, Plains; and Eliana Hrichison; Plains; grandsons Cory Solovey, Oregon; Devin Solovey, Indiana; and Dr. Neil and his wife Dr. Naseem Kocher, Hershey; great granddaughters Sadie Charlotte Kocher, Hershey; and Imogene Solovewicz, Portland, Oregon, great grandson Kai Solovewicz, Portland, Oregon and brother Eugene and his wife Susan, Mountaintop.
Funeral services for Russell will be held on Monday, January 28,2019, at 10:00 a.m. from the Yanaitis Funeral Home Inc., 55 Stark Street, Plains. Funeral Liturgy will be held at St. Mary's Byzantine Assumption Church,695 North Main Street., Wilkes-Barre, at 10:30 a.m. with Rev. Michael Kerestes, officiant. Interment will be held in the parish cemetery, Dallas, with military honors. Family and friends may call on Sunday at the funeral home from 4:00 p.m. until 8:00 p.m. Parastas will be held at 6:00 p.m.
In lieu of flowers, memorial donations can be made to the McGlynn Center, P.O. Box 842, Wilkes-Barre, Pa, 18702.
To send condolences to the family or for directions to services, please visit www.yanaitisfuneralhome.com.